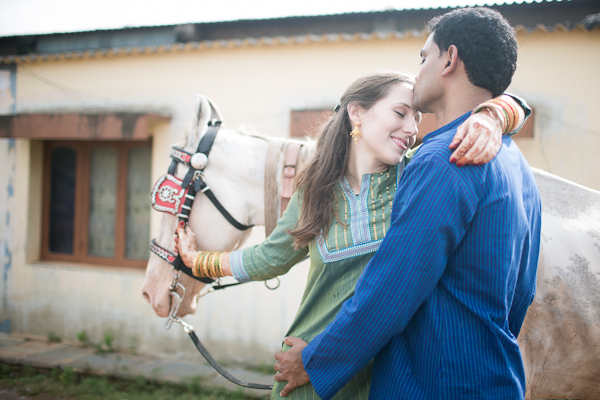 Hannah and Rajesh
Guntur India
This wedding was well beyond anything I could have imagined. I love getting off the beaten track, so I was very happy after the almost 30 hours of flying, noticing that all foreigners seemed to get off the plane at earlier stops. We landed at the Vijayawada, India as the only foreigners on our flight. Then we noticed that no one spoke English and people were kind of looking at us, this made me smile.
I had met Hannah, the bride, once before. I loved getting to know her over the next four days of wedding festivities. Hannah has served in the Peace Corpe, traveled the world and was now about to get married during her first trip to India. She is just so wonderful to be around, she has this warming smile and can light up a room. Amongst all the activities she had all this calm and happiness, and let me tell you, Indian weddings can get crazy, the bride can't eat much, lots of fasting and on top of that so many people were poking, touching, smearing herbs across her face, throwing stuff like rice, even bathing Hannah and in the middle of it all was a soft but strong smile. The idea of marring Rajesh just filled her with happiness. I am not a big fan of being touched by other people, I really like my personal space, and when I am hungry I can be… well… so I couldn't of imagined being in her shoes.
I couldn't understand a word of the wedding festivities, but for a photographer I always think this is an advantage, it causes you to not listen and just watch. Rajesh's family was just so warm and welcoming, everyone always seemed to make sure we were happy and taken care of. We were welcomed into homes, given gifts, and feed… a lot. I got close to some amazing people that I am happy will be part of my life, and I am beyond grateful that I was there.
Another huge thank you to Lisa Robinson my good friend from SoftBox Media who came all the way out there to help me photograph and to have a crazy adventure with camels, elephants, healers, Carlos, and so on! Thank you so much for your friendship and awesome photography!!! Also a big thank you to Naveen, photography fixer extraodinar, for helping us get settled, housing us, and taking us out to shoot during our first trip to India! I can't wait to share the photos from our adventure with Naveen and the rest of the trip! Thank you so much!
I hope you enjoy some of my favorite images, a few highlights from the four days of wedding festivities 🙂