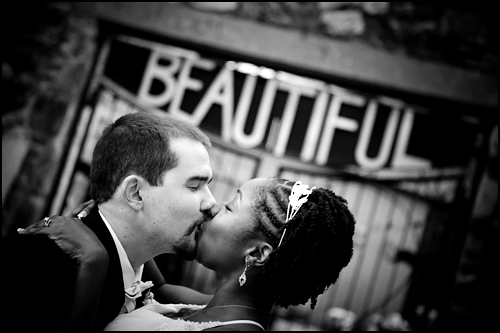 Gail & Andrew
Oct 3rd, 2009
Decatur First United Methodist Church
Decatur Courthouse
I remember when I first met Gail and Andrew. Thu and I were standing inside Taqueria del Sol (best tacos ever) looking around at all the couples wondering which couple we were scheduled to meet. Gail and Andrew were both standing outside the restaurant in a tight embrace, kissing, and smiling like there was nothing else going on in the world. I turned to Thu and said, I really hope that is our couple! We sat down over some Tacos and talked about the wedding. Gail and Andrew are both so fun, original, totally in love, and both with a little nerdy side. Totally my type of couple! A few weeks before the wedding we met again and Andrew told me stories of his bachelor party at DragonCon (the worlds largest fantasy and sci-fi convention). He and his groomsmen had all dressed up as the jokers crew from the most recent Batman and basically ran amok!
The wedding day was so much fun! Gail had a lot of her friends and family fly over from Jamiaca and wow those guys know how to party. Andrew teared up within a couple minutes of entering the church. I had never actually seen this side of Andrew before, but he kept talking about how he was about to marry the most amazing women. Gail looked so stunning. She has beautiful eyes that were lit up. When she walked down the asle, Andrew looked away from Gail and back and forth from left to right. He was trying to hold it together, but as soon as his eyes caught her, they couldn't contain the tears anymore. Like I said before, so in love!
The DJ really rocked it, and I think pretty much everybody (including Thu and I) were out on the dance floor. The music was so awesome that it was hard not to dance a little while shooting. I was actually pretty sad when the night came to an end, it was just so much fun. Thank you guys for having me there to capture such an unbelievable wedding and thank you Thu for your awesome company and photography!